'Left girls' stuck in the singleton life
According to the Ming Pao News, several matchmaking meetings were held during the May Day holiday in Beijing, each of them trying to connect more than 10,000 people.
However, those who planned to try their luck at the Longtan Lake matchmaking meeting before the holiday were disappointed, because the men to women ratio was one to eight and the session had to be canceled.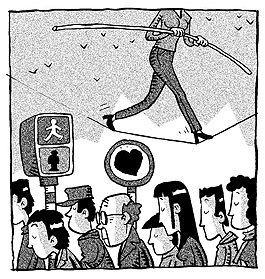 According to the meeting's sponsors, the female candidates were mostly office workers who have established their own careers. There is even a new word created to describe them, called sheng nu or 'left girls'.
These women are described as having 3H's -- high diplomas, high income, and high age. They are also defined by 3S's -- single, stuck, and born in the seventies.
Yingying, a 'left girl' in her thirties who got her master degree abroad, always has arguments with her mother, including a most recent fight. She never had a serious boyfriend, which has been a major concern for her mom. However, Yingying refused her mom's proposal to attend a matchmaking meeting.
Then the mom decided to register her daughter at a matchmaking center. But while she was filling out the forms, she changed her daughter's diploma to a bachelor degree. According to her mom, this as a way to expand her daughter's potential pool of suitors, because many men would balk upon reading information about a woman with a degree higher than their own.